DAVID WORLEY, born in Wittenberg, Germany, came to America as a young man. He married Elizabeth Althouse (born in Pennsylvania). Three of their children probably were born in Pennsylvania – John, Julia Ann and William B. The third child, William was born in Somerset, Pennsylvania, October 1, 1827. In 1829 they moved to Stark County, Ohio. This family was among the pioneers of Richland County, Ohio in 1838.
Through these years, eight children were born to David and Elizabeth:
John Worley
Julia Ann Worley
William B. Worley - George Worley's father
Susan Worley
George Worley
Katherine Worley
David Worley
Aaron Worley

WILLIAM B. WORLEY
Third child of David Worley and Elizabeth (Althouse)
William was born in Somerset County, Pennsylvania, October 1, 1827. His family moved to Stark County, Ohio in 1829 (when he was two years old), and to Richland County, Mansfield, Ohio in 1838, where he learned the trade of cabinet making. At the age of 24 he married Jane M. Crowner April 24, 1851 in Mansfield.
Jane M. Crowner was born April 24, 1831 in Mansfield, Richland County, Ohio. She was the second of nine children born to John N. Crowner (b 1798) and Martha (Patty) Cochran Crowner (b 1803). Her siblings were: Rebecca (1829), William (1833), Michael (1834), John (1839), Lewis (1840), James (1842), Martha (1844), and Thomas (1846). All were born in Mansfield, Richland County, Ohio.
William moved to Iowa in 1852 at age 25, living a year in Cedar County, then went to Washington County where he worked at his trade until 1860. He went to Missouri where he worked through the harvest season, then returned to Keokuk County, Iowa. It is said as a carpenter by trade, he built many of the best houses and barns in the county.
In 1862 William B. Worley enlisted in the Union Army as a Private, CO. I, 40th Iowa Volunteer Infantry. During this time he was in Battles of Siege of Vicksburg, skirmish at Oakalona April 3, 1864, and engagements at Prairie D Ann, Arkansas April 10-11, 1864. Records show he was absent on furlough because of sickness at Helena, Arkansas May through October 1863. He was given a 20-day furlough to go home to Richland, Iowa "by reason of disease contracted in the service." (Malaria?) He was Honorably Discharged August 2, 1865 at Ft. Gibson after three years of enlistment. He received a medical pension because of "Catarra of head affected sense of hearing, smell and eyes." (Click here to read William Worley's war record)
William had moved to Keokuk County where he had taken a tract of land about 80 acres. He erected three residences in Jackson Township for his own use prior to making his home in Ollie in 1888. He was an undertaker in Ollie, Iowa. His business was in a room behind a dry goods store, and he had a horse-drawn hearse.
Jane (Crowner) Worley died July 5, 1904, and William B. Worley died October 4, 1909, both at Ollie, Iowa, and both were buried in the Halferty Cemetery, Keokuk County, Iowa.
William B. Worley and Jane (Crowner) were parents to nine children:
Sabina – born March 7, 1851 in Richland, Ohio. She married Joe Estes, and they had one daughter Einie (Inez) Estes. Joe died in 1919 and Sabina married Samuel Gabby. They had two sons and two daughters – Frank, Van, Lottie (married Marsh Branden), and Mary (m. Walt Snyder). A third husband was Andrew Ramsey.
John Emberson – born May 26, 1854, in Richland, Ohio. John left home at an early age, and nothing is known of him because of his disappearance (possibly to Kansas?)
Orlane (Lane) A. – born December 21, 1855 in Washington County, Iowa. He married Alice Chaney December 17, 1880, and they had four girls and one boy – Margery (m. Thomas Davis), Blanche (m. Marsh Bragg and Vic Lofquist, Des Moines), Ruth, Ethel, and Chace (called Chasey who was a hunch back from an injury.)
Martha Gertrude – born in Washington County (date unknown). She married William Cowgill and they had one son who married a widow late in life. They had one son Jay, who lived in Plackwood, Iowa. Martha may have died early. Aunt Ferne (Worley) remembers hearing people talk about her, but never knew her.
William – born November 23, 1860 in Keokuk County, Iowa. He married Jennie Crowner. Nyra (Myra?) was his second wife. They lived in Divide, Colorado in a house in photo album(?). William is buried in Colorado Springs Fairview Cemetery. Nyra went to California after William died. Nyra had two children – Lloyd and a boy who died. William had no children of his own.
Ada – born March 16, 1863 in Keokuk County, Iowa, had no children of her own. She married Bill Clevinger, and when they divorced she married George McKinnis, who had a son, Gilbert (Gilly).
Olive (Ollie) – born July 13, 1867 in Keokuk County, Iowa. She was called Ol. She married James Sheridan. He died and she married ____ Atherton, and he died. There were no children in either marriage. Ollie had beautiful red hair, was good looking, but heavy. She was a spotless housekeeper. Jim smoked a pipe, and she told Orville Worley she'd have to have the house all papered over because Jim had been smoking in the house!
George Leland – born March 11, 1870 in Richland, Keokuk County, Iowa. He married Laura (Lollie) Mae Trotter December 25, 1892. Four sons were born to George and Lollie – Gerald, Orville, Charlie and Frank.
Frank M. – born April 15, 1874 in Richland, Keokuk County, Iowa. He married Zuea Talley. They had no children, and lived in California. Frank was very neat and a snappy dresser. He was an undertaker in Ollie, Iowa, working with his father, William, who was also an undertaker. They wanted to adopt Orville because they didn't have any children, and they had gotten acquainted with him. Charlie and Frank Worley and wives went to visit them in California one time.
Harvey B. Trotter (Laura's father)
Harvey B. Trotter was born July 25, 1837 in Pittsburg, Pennsylvania. Records show Harvey B. Trotter enlisted for three years in the Eleventh Infantry on October 8, 1861. His regiment saw much action in the Civil War, and suffered heavy loss of 386 men and 40 officers. Harvey was mustered out at the expiration of his term on October 8, 1864 as a Sergeant. (Click here to read Harvey Trotter's war record.)
Harvey married Catherine J. Dennison May 1, 1866 at Talleyrand, Keokuk County, Iowa. They had three children:
Charles (Charlie) B. Trotter – born January 27, 1868. He never married and lived in Kalispell, Montana, where he is buried. He visited family in the San Luis Valley several times in the 1930's and 1940's.
Almira (Myra) Trotter was born September 30, 1869 in Davenport, Iowa. She married Frank W. Fairbanks. It is doubted they had children. Laura (younger sister) visited her once where they lived in Seattle. Myra died in 1945.
Laura (Lollie) Mae Trotter was born October 21, 1871 in Talleyrand, Keokuk County, Iowa. She was married to George L. Worley December 25, 1892.
Catherine Dennison Trotter died at Richland, Iowa March 25, 1872 when Laura was five months old. The three children were raised by an aunt (Cable) who owned a hotel in Ollie, Iowa. This aunt may have been a state officer of Order of Eastern Star.
Harvey Trotter married Nancy Agnes Moore in Lancaster, Missouri January 13, 1886. Nancy was born January 6, 1869 at Coatsville, Schuyler County, Missouri. They had six children:
Fred – b. April 4, 1890
Elmer – b. March 5, 1892
Harvey – b. February 11, 1894
Irmel (?) May – b. April 5, 1896
Ralph – b. February 14, 1899
Dale – b. June 24, 1904
Harvey died February 7, 1916 at Blairsburg, Hamilton County, Iowa of complications following a fractured hip. Nancy died December 6, 1949 of carcinoma of scalp with mastatices at Eldora, Hardin County, Iowa.
written by Frances McCullough (daughter of Frank Worley)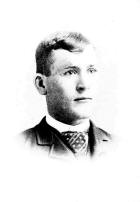 Harvey B. Trotter