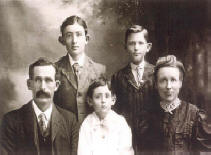 (L-R) George, Gerald, Charlie, Orville, Laura
1907
Charlie Ray Worley was born the third son of George and Laura Worley December 31, 1901 in Ollie, Keokuk County, Iowa. [from Mildred Worley's notes] "He was seven years old when Frank, the youngest, was born. The country doctor who came to the home for the event had a son about the same age as Charlie. The boys played outside most of the day. They pulled and ate a lot of rhubarb, and I believe ate green apples as well. They didn't feel too well by the time the doctor was ready to leave. Charlie could not endure even the sight of cooked rhubarb after that."
Charlie spent his boyhood on the Worley family farm in Iowa helping raise hogs, cattle, and feed for the animals. By the time the Worley family arrived in Colorado, Charlie was eighteen years old. He matriculated at Sargent School into the 8th grade for three years (1920, 1921, and 1922). By the time he was 21 years old he must have decided he couldn't find time to attend school because he worked on the farm. He and Mildred Zoe Cunningham of Monte Vista were married August 3, 1923 when they eloped. Mildred was a graduate of Del Norte High School, and later was a member of the Order of Eastern Star in Del Norte.
[from Mildred's journal] "Chas. and I lived with his family for about six months after we were married. He got a job on a neighboring ranch and we moved to a two room, car-roofed house. His wage was $55.00 per month. Several months later he was hired as Superintendent of the West Farm, which meant working hard, about eighteen hours a day with two or more, usually more, men helping." [other source material] Charlie was a harsh taskmaster to his employees, and required of them long hours of hard work. Frank Worley, his younger brother, told of working for Charlie setting fence posts after dark by lantern light. [from Mildred's journal] "Many men, even some women, tramping the roads, came looking for work or to sleep and some meals. One pair, a thirty or forty-year old man and a boy probably sixteen or seventeen came. The older one said to call him 'Lone Star', the other 'Kid'. These drifters didn't stay very long. Lone Star asked how some dishes were made. One I remember was rice, bacon and tomatoes. An older man was with us for some time. He had a long white beard, and had been a prospector, not very successful. I was amazed at one of his eating habits. He would spread bread thickly with butter, put it on his plate and pour gravy over it. One morning he was missing. It must have been either planting or harvesting time because we had a number of men. Some of them slept in the granaries. Later in the day, someone heard pounding in a granary. Someone had turned the wooden latch on the door, locking him in. We thought it was accidental. He thought it was done on purpose, and was furious!
Our daughter, Madelen, was born the first year we were at the West Farm in 1924. When I think back, how ignorant and inexperienced I was, I marvel that we survived! But we did. A neighbor man came to see the baby. He looked her over, then said, 'My, we sure can get a lot of good out of them, don't we?' He had a son, six or seven years old, definitely past the baby stage."
Larry Alan Worley was born May 12, 1935. About that time Charlie and Mildred bought a farm east of Sargent School (two miles east and ½ mile north), where they lived and farmed while their children, Madelen and Larry, attended Sargent School.
Madelen and Larry each had a pet magpie when they were young. Interesting pets, nuisances, but fun. Madelen's loved to bathe. We had a shallow pan for it, but one day it hoped into a half barrel used for watering animals, and drowned. Larry's bird was so inquisitive. It pestered men all day working on electric wires outside the house. When they left, he investigated, sitting on one wire, and putting his beak on another – and was electrocuted."
In 1952 Charlie and Mildred bought a ranch on Rock Creek and moved there to raise Hereford cattle. After he retired in 1979 Charlie developed a hobby of collecting antiques – all kinds which he acquired by trade or barter or sale. When it became hard to find something he hadn't already collected, he started collecting barbed wire. Much of it was found on his ranch, and Charlie and Mildred attended "barbed wire conventions" where they acquired pieces of wire from Germany, Spain, Switzerland and the Caribbean. His antique collections filled several buildings including a small one-room cabin and the upstairs of his big two-story barn. The upstairs part of the barn not only contained antiques, but also a pool table. Every Tuesday night, Charlie's friends would come by for an evening of eight ball. Even if Charlie was not able to play, his friends would come out to the ranch without fail.
One of the antiques that Charlie owned was a horse-drawn sleigh. For many Christmases, Charlie, wrapped up in a big bear-skin coat, would drive Santa into town to see the kids. The sleigh was pulled by Charlie's draft horse, Ross.
Charlie and his friend, ,each bought an ox and trained them to pull wagons together as a team. Charlie built a large wooden yoke for them and they were often seen at the Ski Hi Stampede parades and events. The oxen's names were T-Bone and Sirloin.
Charlie was a life member of the Southern Colorado Consistory of the Masonic Lodge (Center, Colorado), and a Master Mason.
Charlie died following a stroke on March 28, 1982, in Monte Vista. Colorado.
Mildred died on March 31, 1983. in Colorado Springs, Colorado.
Children of Charlie and Mildred Worley:
Madelen Winifred Worley was born July 28, 1924.

Larry Alan Worley was born May 12, 1935.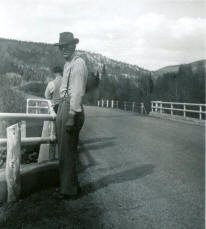 Charlie