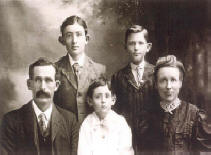 (L-R) George, Gerald, Charlie, Orville, Laura
1907
Orville Hal Worley was born February 18, 1896 in Ollie, Keokuk County, Iowa. Orville was in World War I Army from 1917 to 1919 and served in France. After he returned to Iowa, he and Calphurnia Elizabeth Frederick were married December 31, 1919 in Sigourney, Iowa. As newlyweds they came to Colorado with the George Worley family in 1920, but returned to Iowa until 1926 when they returned to Colorado with two small sons added to their family.
Calphurnia (Ferne) was born April 1900 in Ollie, Keokuk County, Iowa. Her mother was Edna Pearl Mitchell. Her father was Colonel John A. Logan Frederick of Iowa.
Orville and Ferne farmed for a few years, and their sons, Bob and Don, attended Sargent Grade School. At one time they lived at the Baca Grant Ranch. They then went to the Santa Maria Reservoir in 1939 as the reservoir caretaker, and the boys graduated from Del Norte High School in 1940.
Orvilleís continued to move around, looking for the illusive good deal. They had a farm south of Monte Vista on the Gunbarrel, but Ferne stopped planting a garden because she didnít like the rattlesnakes, and Orville didnít like the rocks in the foothill location. Probably the last farm they lived on was the east side of the Gunbarrel just south of the six mile road. It belonged to Sid Klecker, Sr., and Orville had a good relationship with him. This was the most successful farming operation he had. From there they bought a house on Sherman Avenue east of Monte Vista, and lived there until about 1980. Orville died there December 11, 1980 of a heart attack while sitting on the couch. Ferne moved back and forth from Monte Vista to Canon City, trying to find somewhere she could be happy. She died in Canon City June 15, 1995. They are both buried at the San Luis Valley Cemetery west of Monte Vista (Memory Gardens).
Ferne was a good source of information for this family history, as she was in the Worley family the longest, and seemed to be very interested in the history.
Children of Orville and Ferne Worley:
Bobbie Lee Worley was born in Ollie, Iowa, December 24, 1920.
Donald Keith Worley was born in Ollie, Iowa, April 7, 1922.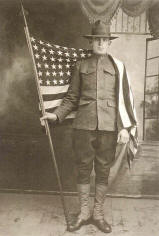 Orville - WWI