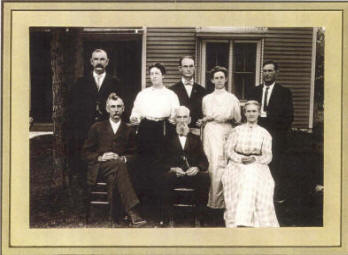 Adult Family of William Worley
(standing)
(seated) Orlane, William, Sabina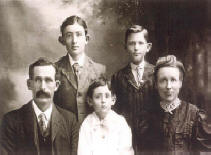 (L-R) George, Gerald, Charlie, Orville, Laura
1907
George Leland Worley was born March 11, 1870 in Richland, Keokuk County, Iowa. He was one of a family of nine children – Sabina, John Emberson, Orlane, Martha Gertrude, William, Ada, Olive, George and Frank. George's father, William Worley, had been a soldier in the Civil War. George's mother's name was Jane Crowner.
George and Laura Mae Trotter (Lollie) were married December 25, 1892 in Richland, Iowa. Laura was born October 21, 1871 in Tallyrand, Keokuk County, Iowa. Her father, Harvey Trotter, too, had been in the Civil War.
George and Laura started farming near Ollie, Iowa. They learned of better land and farming to the north, so they went to Denbeigh, North Dakota for a short time. Soon, though, they became dissatisfied with life there, and returned to Iowa where they farmed for several years. By 1909 four sons had been born to them – Gerald (1894), Orville (1896), Charlie (1901), and Frank (1909).
Word came from the San Luis Valley in Colorado that "money grows on trees", and there was a land sale going on. After Gerald returned from the World War I Navy, and Orville from the Army, they and their father came to the Valley, through the influence of Eugene Davis, who had already come west. In October 1919 George bought a farm in the rural area northwest of Monte Vista.
They held a farm sale in Iowa, and in February, 1920, the Worley family came by railroad to settle in their new home in the area known as the new Sargent Community. Their household possessions and automobile (an Overland) came in an immigrant train car. Two other Iowa families came at the same time, the Elbert Davis's and Otis Ruggles.
The land to which they moved had been bought in 1914 as a 99-year lease on a school section of land and forged from fenceless prairie land into a farm by the A.D. Wrights. In 1917, the Wrights contracted with Fred Oellien to build the large five-bedroom house and barn. The location was eleven miles north of Monte Vista and four miles west of the "Gunbarrel". The farm had been sold to O.M. David, from whom the Worley's bought it. At first the irrigation water was rented from the Farmers Union Ditch Co., and when they did not have the water, it was bought from the Travelers Insurance Company. Peas, wheat, oats, and later potatoes were their crops.
Orville and Ferne, newlyweds when they came to Colorado, returned to Iowa until 1926 when they came back to Colorado with two small sons, Bob and Don, added to their family. Charlie and Frank, the two younger Worley brothers matriculated at Sargent School in 1920. Charlie was 18 at that time, and apparently didn't attend school much but stayed home and worked the farm. Frank entered Sargent at the age of eleven in the 4th grade, and attended through part of eleventh grade, being active in athletics and other sport. In due time the three younger sons married. Gerald married a Del Norte school teacher, Vada David; Charlie married Mildred Cunningham (daughter of O.A. Cunningham of Monte Vista), Frank married Iola Koch from Monte Vista.
George and Laura moved from the "old home place" and lived on several farms in the West Farm area, until a stroke in 1931 and arthritis force George to retire. They moved in 1939 to Del Norte and celebrated their 50th wedding anniversary on Christmas Day in 1942. During their remaining years, their faithful sons and families visited them often.
George was a religious man who read his Bible regularly and attended Evangelist religious meetings in Iowa. He played the piano by ear and sang hymns with his daughter-in-law, Ferne. One of his expressions was "Thunderation".
Laura was more "straight laced" and severe in judgments. At times she would find George in the barn struggling to milk the cows because of his "dizzy" spells. Though she knew these spells were probably from a bottle ostensibly to ease arthritic joints, "Ma" was careful to keep quiet about "Pa's" spells.
George died May 5, 1945 in Del Norte, Colorado at 75 years of age, of myocardial failure complicated by years of crippling and deforming arthritis. He is buried in the Monte Vista Cemetery. Laura died May 11, 1956 (age 84) of arteriosclerosis and abdominal adhesions in Del Norte, Colorado, and is also buried in Monte Vista Cemetery.
Children of George and Laura Worley:
Gerald Leland Worley was born in Ollie, Iowa, January 21, 1894.
Orville Hal Worley was born in Ollie, Iowa, February 19, 1896.
Charlie Ray Worley was born in Ollie, Iowa, December 31, 1901.
Franklin Pierce Worley was born in Ollie, Iowa, July 1, 1909.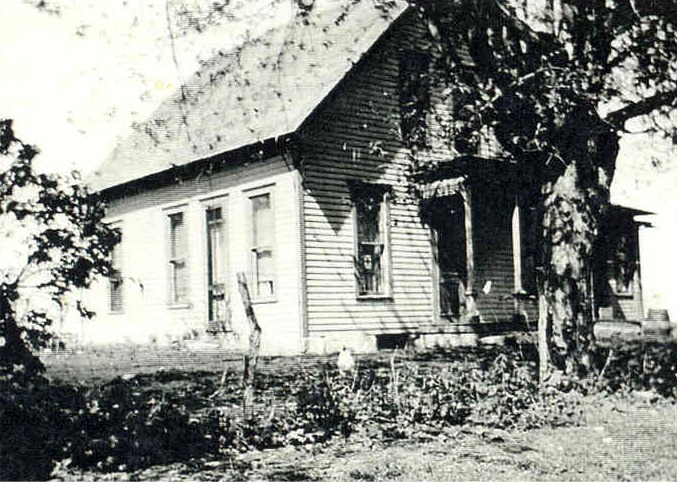 Iowa home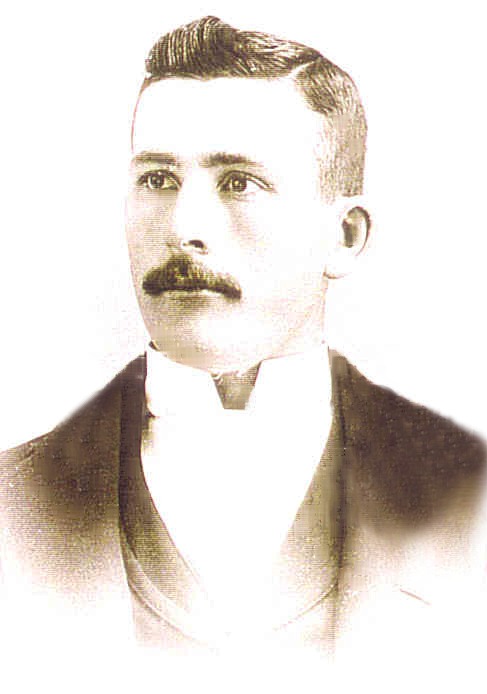 Young George Worley